May 23, 2022
Happy Summer Share! I'll be posting recipes customized to your share for the summer season every other week and of course this site is accessible 24/7 to give you ideas for how to enjoy the share week after week. 
This salad with radish seedlings/micro-greens, beans (any kind of dry bean including anything you've gotten in the share or simple) and toasted seeds or nuts might be a good this week. Or just toss any of the micro-greens into any salad you're making. 
Or toss the greens into a springy risotto at the very last minute. 
For a very quick meal for any time of day make this chickpea and cauliflower dish with turmeric, yogurt and cilantro. 
Or make Aloo Ghobi with your cauliflower and potatoes. 
Or make this one-pot meal with chard, ginger and sausage. You could use a little of the dried hot peppers that we might get this week instead of the fresh jalapeno. 
The chard would be delicious in this chard, quinoa & mushroom bowl with lemon tahini Dressing. 
Make these "everyday" meatballs and add a bunch of your fresh parsley and I just noticed that there are 91 recipes using parsley on the site so you shouldn't have much of a problem using that up:)
March 30, 2022
You might have a nice little back stock of Laura's amazing beans and spring time is surely for tender greens–like the pea greens and raab and
and maybe a quick batch of corn bread. 
Any kind of dry beans you have will make a sumptuous pot of beans with this template. 
Use your raab to make a colorful rice bowl with egg, your favorite hot sauce and and steamed or roasted vegetable.
Use some of your hot, dry peppers, potatoes, turnips and even PSB if you'd like, in a simple coconut milk homemade red curry. 
Make a  big pot of rice and use the leftover for fried rice with radishes and PSB.
Your Tetsu will make a wonderful one-pot dish with excellent leftovers in the form of this one-pot Moroccan Spiced Squash and Chickpeas. 
Boil and then mash a combination of potatoes and turnips for an extra fluffy mash. Serve with some grilled sausages for a  very straightforward meal. 
I have been loving bright, crunchy slaws, using our  spectacular radishes, carrots and shallots to go with both tacos or burritos. 
March 14, 2022
So many greens this week! Make this simple raab with tahini yogurt sauce. 
Pea shoot risotto would be good this week. You can either skip the actual peas or use some frozen ones. The grassy, tender pea greens are delicious on their own too. 
Potatoes and kale baked with bacon and tomatoes is a simple, hearty and delicious dish this time of year–your kale or collard raab will be delicious here. 
I've just been snacking on my radishes and grating them into salads but you could also make this rice bowl with raab and radish slaw and peanut sauce. 
Make white bean and rice soup with raab and sausage. 
Rice + Sauce + Nuts is a wonderful template that could employ your leeks and some of your greens. 
You could use your tetsu squash and some of your dry beans to make this winter squash and barley soup with sage. You can bake the squash halved or even whole for 15 minutes to soften the skin enough to peel and dice the squash as the skin is quite tough and hard to cut raw. 
Leeks, pea shoots with lemony yogurt might hit the spot this week. 
Stewed potatoes and greens with dill yogurt sauce would make a good meal. 
March 1, 2022
Make this comforting curry with your collards and potatoes. 
Or make these Eritrean stewed collard greens. 
This week might call for these Curried Leeks & Cabbage with Coconut Milk. 
These stewed Cabbage, Leeks and Beans tick off 3 items in your share this week and it's a perfect stewy dish for this weather. 
Or make leek bruschetta with egg and fresh goat cheese. 
You can use some of your delicious radishes and carrots in this crunchy bean and herb salad. 
These crispy little fritters/patties are a good method for your Black Spanish Radishes. 
If you have a little time make this delicious green curry (use store bought green curry paste if you don't have time to make it from scratch) with your Raab or Purple Sprouting Broccoli. 
If you get chicory this week you can make this salad with radishes, radicchio and a citrus walnut dressing. 
Use your winter squash in this Red Lentil Dal. It makes wonderful leftovers too. 
February 15, 2022
Saute your celeriac and dip it in Dijonnaise.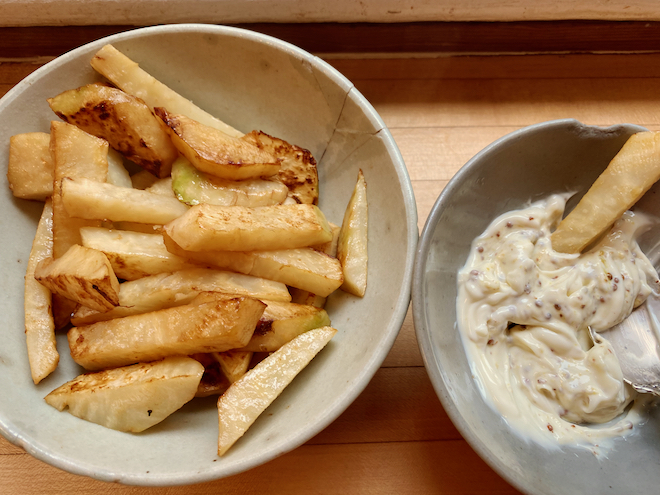 Use your kale tops and some of your winter squash for this quick creamy orzo "risotto". 
Might be time for a Caramelized Onion and Winter Squash Galette. 
This Quinoa Pilaf with most any Vegetable might be useful this week for the leeks, carrots, celeriac, etc. 
Or make these White Beans, Leeks and Chicken for a quick, satisfying supper. 
Or this Chicken with Leeks and Lemon. 
You could incorporate carrots and turnips or celeriac in this Root Vegetable Pot Pie. 
Or make a simple side dish with turnips, a saute with miso, soy and sesame. 
If you still have dry beans you could use those and some onion and carrot for Pasta Fagioli. 
Use your cabbage for Tofu "Egg Roll" in a bowl w/ Sriracha Mayo. 
February 2, 2022
My new favorite way to eat celeriac (which I will write up properly soon but it's a cinch to make): cut the celeriac into batons and saute (much quicker than roasting though both are great) with just a little oil until tender. Mix some whole grain mustard into mayo (now you have Dijonnaise) and dip the celery root in it and see how quickly you'll devour a whole celeriac. 
Use your leeks for this un-blended potato, leek (and bacon) soup. Come to think of it, a bit of diced celeriac would be delicious in this soup as well. 
This celeriac, celery, wheat berry salad is crunchy and savory and delicious. 
I forget to do this as grating beets can make quite a mess but it's a quick dish and so sweet and good–sauteed grated beets. 
Another grated option is this delicious apple and beet salad. 
Your cabbage would be good in Caldo Verde, the simple and wonderful potato, chorizo and cabbage/kale stew. 
You should definitely make these roasted onions and butternut squash with a tahini dressing.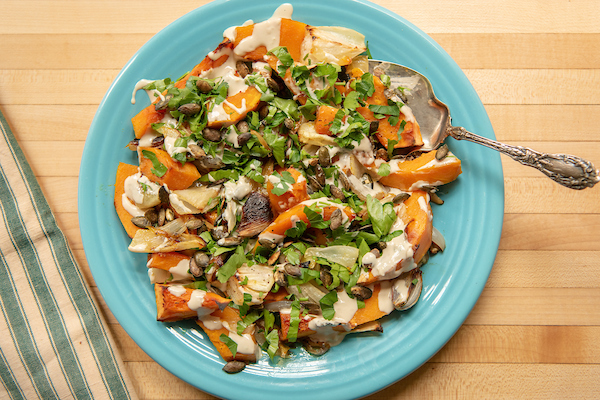 Or you could use your squash in this creamy coconut butternut squash soup. You could sub some cabbage or kale for the chard called for in the recipe. 
Use your sugarloaf in this hearty salad with white beans and potato "croutons". 
Red beans and rice would be wonderful with your gorgeous dry beans. 
January 4, 2022
Happy New Year! 
We have dry beans in the share this week and there are so many ideas for those. I just made a wonderful chili and am looking forward to making ribollita and may use collards instead of kale as that's what we're getting.
If you have white beans you can also make this soup with beans and your sugarloaf. 
You can also make a delicious version of Caesar salad with sugarloaf. 
I'm not sure which type of winter squash you're going to get so be sure to browse the whole category for ideas. If you're getting marina di chioggia or delicata you might make this bake with cabbage and apples.  
Or simply roast your squash and dress it with a garlicky, spicy yogurt sauce and toasted seeds. 
I've been simply sauteeing my celery root in olive oil but might make this lentil and rice soup with celeriac on this blustery week. 
You could braise your collards with miso, sesame and soy for a nice side dish. And you could use some of your dried hot peppers as well. 
I can't get enough of this Warm Brussels Sprout Salad with Walnuts and Cilantro. 
I love this beets with mustard seeds and cumin (and a little yogurt if you'd like). 
December 14, 2021
This grated carrot salad is one of my favorite things this time of year. Use your carrots, some parsley, a little red onion (not in the recipe but would be wonderful. 
This Green Couscous Salad w/ Roasted Vegetables is perfect for this week's share.
Some of your parsley and onion would be critical to these quick, everyday meat balls. 
Roasted Celery Root & Mushrooms w/ Parsley Vinaigrette might fit the bill. 
Potato Leek Soup is in order. 
And how about these Peanut Sesame Brussels Sprouts?!
Turn your Brussels Sprouts into a proper meal with the Brussel Sprout Pasta "Risotto" w/ Bacon.
Might be time for Winter "Everything" Salad to sue some of your chicory, beets, onion, carrot, etc. 
Simply roasting your delicata in slices always works. 
Or turn those slices into a kale salad with toasted almonds. 
November 30, 2021
There are 30 celery root (celeriac) recipes on the site. I made this simple saute with my first one this year and it's just so good and simple. Just oil and salt and a hot skillet. 
It's certainly the week for Celery Root & Leek Baked Pasta. It's so good and perfect comfort food for blustery days. 
You can use some of your leeks and possibly collard greens in this Leek, Cabbage & White Bean Soup I haven't tried it with collards but I think swapping them out would work well. 
These Eritrean-style Stewed Collards are a little spicy and so fragrant and delicious. 
Your chicories and fennel are both stars of the show in this salad. 
You could make this Fennel Pilaf w/ Toasted Cumin & Golden Raisins. 
Beet and Chicory Salad would be wonderful!
Is it time for borscht? 
No matter what chicories you have this winter salad template (w/ dates and orange if you'd like) will hit the spot. 
November 2, 2021
Happy Winter Share! I'll be sharing some share-appropriate recipe links here at every winter Pick-up day. So much fun to be had with the gorgeous greens, brassicas, roots, squash and more. Happy Cooking!
Roasted Cauliflower with Parsley, Capers & Cranberries would be delicious this week. You could do a test to see if it's worthy of the Thanksgiving table. 
Or you could use some of our cauliflower and potatoes (and if you have any straggler tomatoes) to make Aloo Gobi. 
Your potatoes, beets, fennel and frankly almost anything in the share would be welcome in this Wintry Nicoise Salad template. 
To straddle the season you might make this beet and walnut dip with lots of fresh herbs (while we might still have some in our gardens), one of my all-time favorite beet dishes. 
Or make this quinoa dish with grated, raw beets and cumin and lemon. It's so good!
Your fennel would be delicious in this simple salad with lemon juice and s & p and will be a bright side to some of the comfort foods so welcome these cooler days. 
This shredded Collard Green Salad with Pickled Apples and Walnuts is a wonderful way to enjoy collards raw (the get to macerate for a bit so soften up nicely, especially when cut really thin. 
Or make these delicious Collard Green Fritters with Harissa & Yogurt Sauce (or just Yogurt w/ some Sriracha or chili crisp).
Leeks sauteed in butter may be the simplest and best preparation with wonderfully fresh leeks. 
Or braise them with chicken and lemon juice. So good!
For your Tuffy Acorn type squash you could either simple roast it, halved with some butter or olive oil and salt or your stuff it with the miso, lemon, cranberry, quinoa stuffing. 
September 14, 2021
Time for caprese salad? 
I've been making this super fragrant and quite simple tomato and potato korma. 
I never tire of this simplest of all dishes–fried peppers and potatoes–a dish I ate in Calabria 25 years ago. 
If we get eggplant this week it's time for ratatouille!
You could substitute some thinly sliced Tropea onions for the scallions in this mizuna pancake recipe. 
This salad is always welcome, with or without avocado. Toss in some feta or fresh mozzarella or toasted nuts if you'd like. 
Simply fry those padron peppers and enjoy!
Roasted tomato basil & garlic soup would be delicious on this cooler nights and an excuse to make grilled cheese sandwiches to boot. 
And more tomato and basil ideas in the form os this quick bulgur dish. 
Finally, chickpea, tomato & potato stew (with or without chorizo) might also fit the bill. 
August 24, 2021
If you don't simply eat your corn on the cob you could make this soup that combines corn and summer squash. 
I've been making this summer squash "butter" as it works through more squash than pretty much any other recipe I know and is very delicious. 
Eggplant with Garlicky Yogurt might be good this week. 
You could use your Anaheim peppers instead of Poblanos in this Roasted Pepper, Potato (or steak), and Onion Tacos. 
You could also use your corn, potatoes, Anaheims and onions in the corn chowder. 
This Greek Salad inspired Grain Bowl would be a good use of your cukes and any tomatoes you might have already. 
This site-favorite uses cukes, chickpeas and beets we may get this week and is absolutely delicious. 
August 10, 2021
These lettuce wraps filled with tofu and carrots and peanut sauce might be a nice meal for a hot night. 
Or make a big green salad and dress it with a miso dressing. 
Zucchini piling up? I just made Zucchini Parmesan just like I would make Eggplant Parm. It was delicious even with only a little Parmesan. I didn't have as much as the recipe calls for and it was still great. Leftovers were delish over rice. 
So many cukes! Make Tzatziki and have it with/on everything. If you don't have dill, don't worry. I made it with parsley, basil and chives today and it's fantastic. 
You could put some of your cucumbers in this Rice Salad along with some of the lovely onions we've been getting and any herbs you have on hand. 
Beets and their greens with garlicky yogurt might be good this week. 
Your purple potatoes would be stunning in this potato salad w/ plenty of herbs and a tangy yogurt dressing. 
If you get collards this week, you could simple braise them with some white beans, garlic and hot red pepper.  Grill some sausages and have yourself a hearty summer meal. 
July 27, 2021
The snap beans and new potatoes make me think of Nicoise salad–if you can find a few tomatoes, you're set. 
With some of your cukes and cilantro make this quick, gingery salad. 
Or make this cool, cucumber soup. 
Make this delicious sauce/dressing with your cilantro and put it on everything!
Blanch your collard greens and use them as wraps for all sorts of fillings. 
Or do a quick braise with them and some of your onions. 
This noodle bowl would be excellent with your savoy cabbage, carrots and cilantro. 
Use some of your zucchini and onions on a pizza!
Or make this delicate, incredibly flavorful zucchini fritters. 
Make a Spanish Tortilla with some of your potatoes. 
July 13, 2021
You could add thinly sliced fennel and onion to this cook-with-what-you-have salad this week.
Or make this lemony fennel salad with cilantro. 
Try this very quick dish of baked white beans and summer squash with your zucchini. 
Your broccolini would be lovely in this barley, broccoli and almond salad with pecorino dressing. 
If you haven't used your black chickpeas yet make this salad–fennel and onion this week would be great here. 
Here are a couple of basic ways to prepare your fava beans. 
And here's a post on the Iranian method of cooking fava beans whole in their pods. The individual beans just fall out and the skin is tender enough to enjoy so you save lots of peeling time. 
Use your kale for this robust and beautiful salad. 
If you picked up some Umi ramen noodles you could make this stir-fried noodle dish, using onion, zucchini and/or fennel. 
Or make a cold salad with the noodles and add broccolini instead of the peas and whatever fresh herbs you have. 
June 30, 2021
Make this "Pad Thai Salad" with your snap peas this week! It's a wonderful light dish for a hot night. 
You can make this delicious, crunchy salad with just your snap peas and turnips. 
You can use snap peas instead of shelling peas and napa cabbage (if you still have some left, as I do!) in this quick Indian curry. 
You can combine fennel and turnips in this refreshing slaw that is delicious as a side or in fish tacos. 
Or use your fennel and red onions for this little salad with capers and feta. 
Make this quick cauliflower dish with herb and pumpkin seed pesto. 
You could also use your cauliflower and garlic to create this wonderful one-dish meal of lentils, herbs and a raita-like cool yogurt sauce. 
Your lettuce and red onions will be wonderful in this salad with some toasted nuts and strawberries!
June 15, 2021
Use the gorgeous lettuce and radishes and spring onions in this springy Fattoush-like salad. 
Make this Vietnamese-inspired Napa cabbage and chicken salad with our without vermicelli noodles. 
German-style Kohlrabi with Dill might be good this week. 
I used some of my komatsuna from the last share, along with garlic scapes and broccoli for this quick and delicious curry. You could make a version with just komatsuna, spring onions and/or add some thinly sliced or diced kohlrabi (in place of the broccoli) this week. 
Use some of your napa cabbage and komatsuna for this slaw with toasted peanuts.
Or make a batch of kimchi using your Napa cabbage, spring onions and even some radishes if you'd like!
If you still have your black chickpeas you could use them in this crunchy salad with radishes. 
June 1, 2021
Use your mustard greens and some green garlic in this glorious pot of brothy beans and greens.
You could make a frittata with some of your cauliflower, green garlic and/or garlic scapes.
Or make this gorgeous and delicious spiced cauliflower steaks.
Grill or broil your garlic scapes for a delicious snack/side dish.
I think this vermicelli noodle stir-fry salad would be great with your turnips, turnip greens, green garlic and/or scapes as well as radishes.
Your butter lettuce would make nice lettuce wraps!
This may be my favorite way to prepare salad turnips!
Or you could make a springy Nicoise Salad using radishes, turnips, butter lettuce and even some steamed cauliflower.
Or this springy salad with strawberries and toasted nuts.
May 18, 2021
Welcome to the summer share of 47th Ave Farm! I'm excited for another season of the freshest most delicious produce imaginable. Ever other week I'll link to recipes that feature produce from the share but know that there are 1,100+ recipes on the site so if nothings speaks to you here browse the vegetable categories or use the Search box to find something that does.
Spicy stir-fried noodles with bok choy are a quick favorite around here.
Make this bright, crunchy, robust salad with some of your radishes, radish micro-greens and green garlic in the dressing. 
If your radish greens are nice and fresh you can make this version of chimichurri using some of them, parsley and some more of your green garlic.
Your cauliflower and parsley come together in this beautiful salad (made with a gorgeous 47th Ave purple cauliflower last fall!)
Or make this quick and satisfying dish of cauliflower and chickpeas with turmeric and yogurt.
Salmon with Chard & Parsley Pesto might be nice this week.
Or use your chard in maybe the simplest and one of my favorite chard recipes–slowly cooked with onions.
April 12, 2021
This cauliflower and garlic frittata would be a great use of your cauliflower and any attached tender leaves. Leftovers make a tasty sandwich filling for a picnic.
Your cauliflower and potatoes would be delicious in this fragrant Indian dish, aloo gobi.
Grate your winter radish and a couple carrots to make this bright and crunchy slaw.
This sweet and sour agrodolce is a fast and flavorful way to use your rutabaga.
Or make a simple side dish of mashed root vegetables using your rutabagas and potatoes.
Squash and beans make this warm salad hearty enough for lunch or dinner.
Your raab would be delicious in this flavorful bowl of miso broth with raab and noodles.
Or maybe you need something simple and quick – make a big batch of crispy, roasted raab instead.
February 16, 2020
Your squash would be delicious in this Moroccan-inspired stew with chickpeas.
Your turnip and even some grated tetsu squash would be wonderful in this quick saute.
This soup of white beans and greens will be wonderful with either kale tops or collards or both. I've been making the vegetarian version with just carrots, onion and garlic and it's fabulous. Or add sausage for the meat lovers.
Use your pea greens in a salad like this or as a garnish for a soup.
This bruschetta with stewed leeks, egg and goat cheese has a whiff of spring and you could top it with some of your pea seedlings. They are a bit of a mess to eat but so good and so pretty.
Or sometimes simple is all you can muster. These leeks are sauteed in butter or olive oil with a little thyme and they'd be delicious on polenta or as a side to a roast or with an egg.
These Eritrean stewed collard greens are simple and fantastic.
For a fragrant vegan dish using your carrots and leeks make this Turkish style rice dish with lots of lemon.
You could also mash your turnips and potatoes together.
February 2, 2020
How about this gorgeous watermelon radish, celery and walnut salad?
Your kale tops and potatoes would be delicious in this bake. And if you have some dried red peppers left, use a little of those here too.
I think this Lentil & Root Veg Shepherd's pie would accommodate some kohlrabi and certainly some leeks and shallots and of course potatoes.
Time for Kohlrabi Latke's?!
What to do with those black Spanish radishes? They're pretty intense. You could also fritter them like this.
Grating them is often a good idea as it helps soften/break them down a bit. They're good in this slaw with other winter roots and some bread and cheese–which rounds things out nicely. This would be great with kohlrabi and any radishes you have.
January 19, 2020
You could use your watermelon radish in this beautiful, crunchy salad.
For something fun and a bit different you could blanch your collard greens and make wraps.
Your Tuscan kale tops and potatoes would be wonderful in ribollita, the Tuscan bean, kale and bread soup.
Maybe a good week for potato leek pizza!
Or make this soup with leeks and substitute kale tops for the chard here. It's a spectacular soup!
This delicious galette is quicker than it looks and would be a good use of your onions and winter squash and cayenne.
Or make this creamy orzo with winter squash and greens.
January 5, 2020
The Black Spanish Radish often stumps eaters so this overview might be helpful.
You could use some of your radish and kohlrabi and a little Aji pepper in this crunchy salad
Black Radish Pancakes are fun:
Use collard greens instead of chard in this warming soup and use the Aji pepper instead of the jalapeno here as well.
Collard greens are also wonderful with beans.
I think I used my last Gigante kohlrabi in 6 different meals. These things are just amazing–in how tender, crunchy and sweet they are and in how well they keep, even cut into. So use a chunk for this and that and snack on it in between. It's a true winter friend in the kitchen.
This simple kohlrabi slaw will brighten up most any meal and fish tacos are particularly good with this.
This is way I ate kohlrabi, growing up in Germany, most often, and it's delicious.
Or you could roast a pan of kohlrabi and Brussels sprouts (or just one or the other) with just some salt and olive oil until browning and tender. So good!
You could use a mix of kohlrabi and Brussels or just Brussels sprouts for this incredibly vibrant Thai-style salad with fish sauce dressing.
I just made this chicory salad with the chicory from the last share and it was the best thing I've eaten in a while.
Your onion or shallots will be good in this Barley Mushroom Risotto.
December 15, 2020
I made this Vermicelli Stir-fry "Salad" with collards and kohlrabi (the 5th meal from one kohlrabi:)! and it was excellent. It's very adaptable so you can use carrots, Brussel sprouts, other leafy greens, etc.
With some of your leeks and potatoes make these pancakes. It makes a lot but they're even better the next day crisped up again in a skillet.
Or make this incredibly simple dish of braised chicken with leeks and lemon.
Collard greens with spiced chickpeas is a quick, satisfying meal. Top with an egg for more heft.
Or make this collard dish with tomatoes and crispy breadcrumbs.
These mustard braised Brussels sprouts have been getting rave reviews lately.
This is my new favorite chicory salad and it's great even without the fennel but if you have some languishing in the fridge, use it here.
This savory galette is fun to make with onions and winter squash or leeks and greens.
Or use some of your squash to make this Moroccan-spiced butternut squash and chickpeas.
December 1, 2020
Curried kohlrabi fritters are one of the most "favorited" recipes on the site and you'll have plenty of raw material for them this week:)!
Or simply braise them. The simplicity belies how delicious they are and how many you can eat, prepared this way.
Or use some of the kohlrabi and daikon for a crunchy slaw.
Chicory and beets are a lovely combo, like in this salad.
Or make this gorgeous beet and apple salad.
I used my Brussels Sprout tops recently like this: sauteed in a bit of oil with some onion. Added a splash of water, covered and steamed for a few minutes. Mixed a little miso, soy sauce and touch of sesame oil in a small bowl and stirred into greens when tender. Salt to taste though might not need any because of soy and miso. I haven't written the recipe up proper yet, but it's terribly simple and very good.
Your fennel can turn into a rich sauce/condiment (depending on how long you cook it down) and then enjoyed as a side, on pizza, with a large shape of pasta.. . ..
This hearty winter salad uses your chicory, potatoes and some white beans.
Here's a little something different to do with leeks: stewed and then made into a bruschetta with goat cheese, and chopped egg.
Or you could mash up some leeks and potatoes and top with fried capers and parsley.
November 17, 2020
You might use some of your Tuscan kale and potatoes to make this hearty dish:
Or combine some potatoes and celery root for a nice variation on a classic gratin.
A quick simply supper: white beans, leeks and chicken!
Brussel sprout tops are the sweetest greens. Simply roast them!
This radicchio salad would be good with carrots instead of the radish noted in the recipe.
Or make the hearty Winter "Everything" Salad for a light supper.
Time for Leek & Potato Pizza?
Your kale and delicata squash marry beautifully in this salad.
Nothing simpler than these butter braised carrots and they might be the best thing on the table at Thanksgiving with Laura's carrots!
November 3, 2020
Welcome the 47th Ave Farm Winter Share custom posts! You will find dishes and tips here that use the produce in your share and of course there are hundreds more options in the sidebar if none of these suit your fancy! Happy cooking!
This simple fennel and white bean salad might be nice this week.
Or braise the fennel with capers, garlic and a few tomatoes (roasted or fresh).
The fingerling potatoes are delicious simply roasted.
Quick-cooked collards with citrus and raisins are fantastic and even raisin skeptics tend to like them.
Your sugarloaf chicory is fantastic raw in salads or quickly stewed with beans.
Make this salad with the sugarloaf and some of your beets.
This beet dip with sage and thyme would also be good.
Can't go wrong with leeks sauteed in butter.
Roast those squash in wedges and dress with a bright spicy dressing.