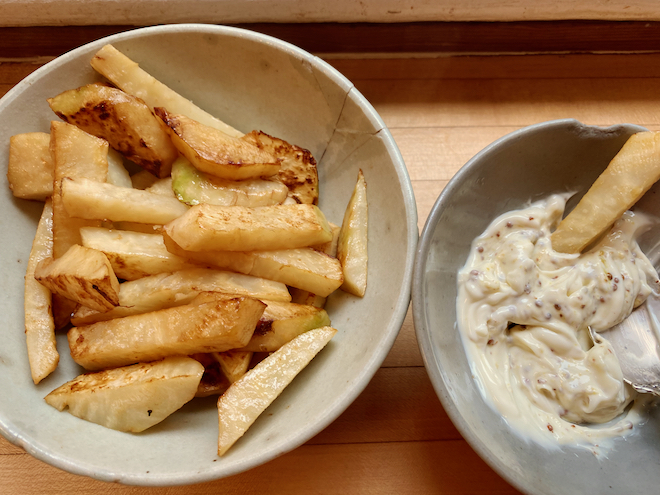 I grew up in Germany eating a lot of butter. Butter on sandwiches, often open-faced simply in the form of Butterbrot (bread with butter) and Kaesebrot (bread with butter and cheese). Mayonnaise showed up with French fries but butter was king. 
Now I find myself not only eating butter but reaching for the jar of mayo more and more often. Do you have celery root (celeriac), potatoes, turnips, carrots, broccoli on hand? Saute or roast and dip any one of these in Dijonnaise–nothing more than mayo mixed with whole grain Dijon-style mustard. This is my latest obsession and I'm undoubtedly not the first to enjoy this combination. The classic French celery root remoulade employs mustard and mayonnaise in the dressing which was my inspiration for this dish but it really goes with many, especially winter vegetables.
A friend brings me steamed artichokes regularly and there again I reach for the jar of mayo. My mother served artichokes with mayo and I do to this day–no melted butter there! I can still eat three artichokes in one sitting and used to eat even more when I had the chance and a bigger appetite. And come to think of it, Dijonnaise might be a good riff on plain mayo here too. 
I've been getting a winter vegetable CSA every other week and have been enjoying the variety of vegetables so much and the sheer volume of veg that I eat has gone up. Jar of mayo plus roasted veg and piece of toast (with butter!) is not a bad lunch at all, especially if I have celery root. If you've avoided this scruffy root in the past, give it a try in this form. You may eat a whole celery root in one sitting.  
As soon as I get another cabbage I'm going to make this Tofu "Egg Roll" in a Bowl with Sriracha Mayo, so I can mix this  ubiquitous hot sauce with mayo and have an excuse to eat it. Or add a little soy sauce to the Sriracha Mayo and you have an addictive sauce for my simplified version of Okonomiyaki (cabbage pancakes). 
What are your favorite ways with mayo? I think I've just scratched the surface. 
Happy Cooking!